Where is Your Investment Calculator for Your House Flipping Projects?
Could you use a calculator tool for your fix and flip projects?
Many times we run numbers in our head or we create ballpark estimates.
However, having a file with all financial plans related to the project is ideal.
I don't know anyone who'd recommend you enter into projects without having adequate detail for all expenses within your project.
Within each aspect of a renovation, there are many important financial factors to consider.
Today we will cover 5 important aspects of a renovation project and introduce you to a tool to support you.
Let's get started…
1) The Entrance
The entrance carries many variables, depending on your lender, and the true potential of the asset.
A cash purchase would eliminate payments towards a monthly note which helps profitability (if you don't prolong the project due to not having a note).
A private or hard money purchase would play a significant role in your overall profit margins depending on your leverage support for the purchase and the rehab loans.
A traditional-institutional loan may be the lowest interest payment, but may cost you more for the down payment.
Regardless of how you intend to purchase, your financial support and the potential of the asset, plays a significant role in determining an ideal entrance cost.
The entrance is a crucial aspect of any investments' potential. Securing the ability to meet or exceed profit targets starts at the entrance.
The purchase is the point where you either lock in a high probability of success, or you decrease that potential by not having an effective evaluation method.
Be sure the evaluation is not where you are lacking preparation. Our evaluation tool provides this support.
2) The Renovation
Once you've made your entrance into the investment, the operation begins.
Knowing your operational plan should already be known.
In fact, you should have already aligned your contracting support, your scopes of work, your vendor relationships, possibly placed orders for materials that are now in route, and know your order of operations for the entire project (through the anticipated sales date).
Knowing, managing and executing your plan are crucial characteristics of having a successful project.
You can only comprehend your project well if you understand your numbers and the order of operations.
To estimate adequately, you need to assess where, why and how much, each line-item expense will cost you. Be sure to also account for contingency.
If your calculator tool does not include an adequate break down of the expenses that contribute to all your scopes of work, you are missing key detail.
Knowing what costs should be, is not only a means of understanding your operation. It is a protection mechanism to help you avoid being taken advantage of by an inefficient or untrustworthy contractor.
You will find the ability to assess any potential line-item expense within the renovation project with our tool. Ultimately, helping your comprehension and management skills.
3) The Holding Period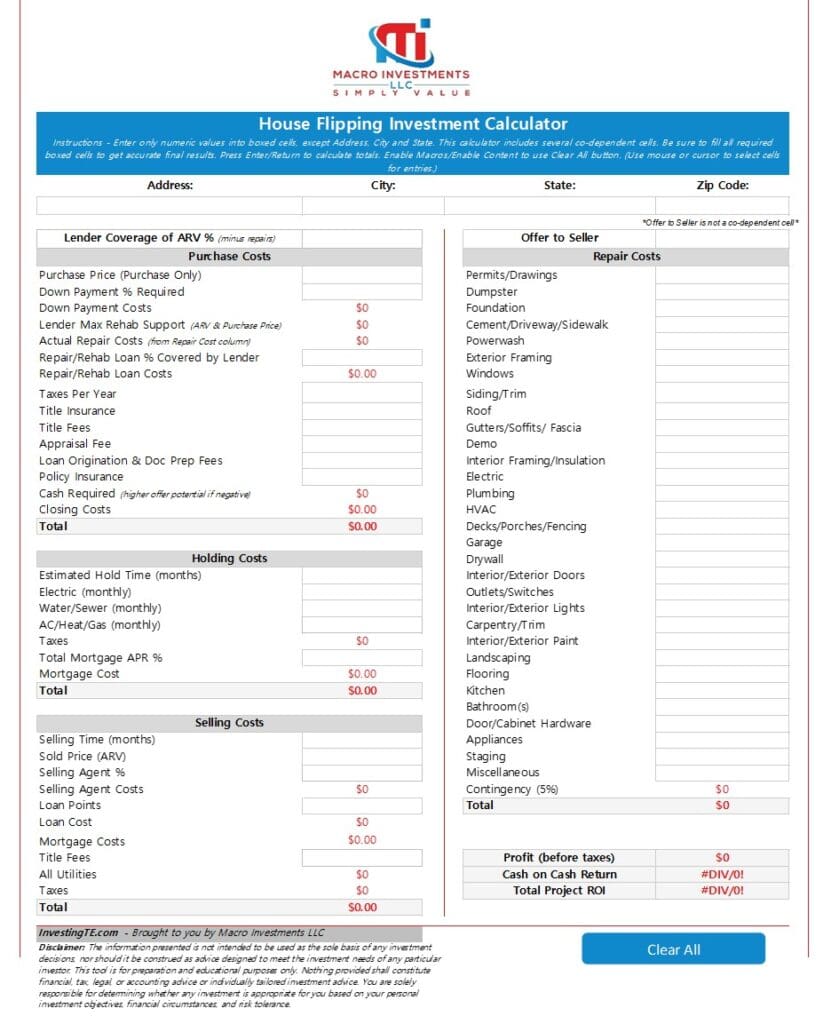 Understanding how long your project should take through the renovation period as well as the time it should take to sell, are vital aspects of running your numbers.
Your starting point is running your ARV.
Within running your ARV, you should know your average days on market prior to closing the sale.
Considering the time to complete the renovation, and the time to sale the property, you have your total holding time.
Depending on if you've purchased with cash or with private/hard money, you may or may not have a note to pay each month. However, your time to complete the renovation should not change regardless of your purchase method.
When evaluating your holding period, you'll need to consider your APR, the taxes, and the utility payments.
All of these expenses amount to what your holding costs will consist of.
Your evaluation tool should include this. Many times, it is useful if our tool will tell us what our monthly mortgage payment will be.
Our calculator includes the ability to do so.
4) The Selling Costs
As a part of the holding period, the time to sell is included. However, there are costs associated to selling that you must account for as well.
Agent fees, and points to the lender, account for selling costs for the project.
Note: Don't forget to account for the time to sell within your holding costs.
If you've purchased cash, you will not have any points to pay to the lender. So, expect this cost to be removed.

Your calculator tool should account for these expenses and the ability to show what this expense should be.
Our calculator tool includes the ability to do so.
5) The Project Summary
When all is said and done, knowing if the the project meets your expectations is vital.
Taking several months to complete a fix and flip takes time, energy, teamwork and good planning. Seeing your potential profit and return on investment is a determining factor in whether you pursue the project.
Your tool should also include informing you of the potential profit above and beyond the cash you initially invested.
Afterall, it makes no sense to spend $20,000 to only profit $20,000. This is just breaking even.
For example, a true profit of $20,000 would be if you actually profited $20,000 above what you initially invested.
Seeing the final numbers allows you to reassess and make tweaks elsewhere in the project, if possible, to determine if the project is feasible.
Perhaps you can reduce your renovation costs proportionately, complete the project sooner, save money in your selling costs, or reduce your purchase amount accordingly to make the deal work.
Being capable of seeing every aspect of your project including all expense categories, enables you to evaluate much more effectively. It also improves your comprehension.
Our calculator tool includes the ability to do so.
Summary
See more of our investment calculators here in our Shop.
We have many more investment calculators for the aspiring or seasoned investor to simplify the learning curve.
From home buying to investing, check out our helpful tools.
Thanks for joining us today! Love ya and continue to strive for growth.
Please comment if this article was helpful for you today.
House Flipping FAQ
What is the 70% rule in house flipping?
The 70% rule is in reference to your entrance strategy. The 70% rule formula, or 70% of ARV (after repair value), minus repairs, provides an entrance that supports your project being a success.
It allows 10% for selling costs, up to 10% for holding costs, and 10% for profit.

Holding costs normally amount closer to the 5% mark, leaving a total of approximately 15% for profit.
How much does the average house flipper make?
The average house flipper makes approximately 10% to 15% profit.
This amounts to about $10,000 to $15,000 for every $100,000 sales price.
Can you flip a house with $100k?
Yes. With the proper support, $100,000 is more than enough to renovate a property.
Out-of-pocket costs are usually the following:
Down payment of approximately 10%.
Closing costs of approximately 3-5%.
Holding costs throughout the course of the project.
Repair funds to support the draw process.
Get your house flipping calculator today to run your numbers.
How do you calculate profit from a flip?
If you are using the 70% formula, your profit is normally about 10-15% of the sales price, minus up front costs.
If your up-front costs for down payment and closing costs are about 4-7% of the sales price, you should consider this before entering a project.
These up front costs, can easily reduce your profits to under 10% of the sales price.
Get your house flipping calculator today to run your numbers.
Get our FREE Deal Analysis for Rental Property Calculator!
Plenty of great tools for your investing journey!
Our mission is to help others develop using our knowledge. We love helping people!
We cater to those looking to grow professionally and educate themselves in real estate and stock market investing.
Need Investing Tools?
For your real estate and budgeting needs.
Make the Best of Your Home Buying Experience Now!
Best preparation tool available for home buyers!